It is always a good moment to have a look at what is happening outside our borders, not only to see which are the latest trends in Paris, London or New York regarding bridal fashion, but also to simply discover new talents, to get inspired or to fall in love again with the classics. In this first part, we will run through those brands that offer us a more casual and urban style.
Rime Arodaky is one of my favourite designers in the Parisian scene, because it combines perfectly that je ne sais quoi of the French elegance with a rock touch that it is difficult to achieve without falling into the tasteless side.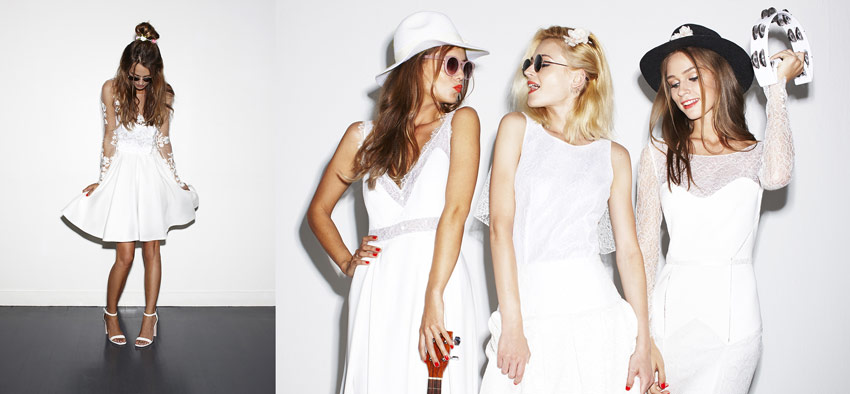 Continuing with French designers, I have discovered an atelier that gives me really good vibes: Mademoiselle de Guise. Both its ceremonial collection and its civil marriage one are a delight. An ode to made in Paris coquetry.
Needle & Thread is, without any doubt, a great option for brides with lots of style and small budget. It is a young English brand that stands out for its ballerina dresses, its Victorian style embroidery and a marvellous balance between romanticism and sobriety.
Going on with economical but attractive options, we cannot forget BHLDN, Anthropologie's ceremony brand, which now surprises us with a new Boho collection. Without leaving aside the successful tulle skirts and sequin tops.
Although, for those having a genuine bohemian soul, probably the best option is FP Ever After, Free People's bridal collection. Its designs are always loyal to the 70's and its slender lines and flared sleeves in the purest Woodstock style never disappoint.
If we want the same boho character, but with the exquisiteness and perfection of haute couture, the best thing is to opt for the Israeli Lihi Hod. Dresses that dazzle due to its elegance and impeccable details.
To finish this first stage of the trip, we introduce a firm that arrives from Australia, but it could perfectly be from Ibiza: Grace loves lace. They are very sexy and elaborate dresses, with lace coming from France, and a beach look that would fit in any kind of sunny ceremony.