It doesn't matter if you want a romantic or an alternative wedding, you can always find details that make the difference and that your guests remember.
These are some of the trends we have detected for 2016 (and that probably will stay in 2017) that we love!
Metallics
Gold, copper, rose gold, silver, all of them are good options if they are combined correctly. My recommendation is that, if you decide to give great importance to one of these finishes, balance it with moderate colours, otherwise it may result excessive. For example, copper goes well with green, grey and greenish blue tonalities.
Geodes
Decorations with geodes and minerals start to become known, especially on cakes, where the crystal effect is done with sugar. This resource can be very elegant if it is fairly used and mixing geodes of the same chromatic range, but really garish if combined with too much gold or complementary colours.
Crystal
An idea that I really like because it can fit perfectly in any style of decoration and always results elegant is crystal or transparent elements beyond glassware: in the menus, seating plans or the table numbers, for example.
Marble
Without a doubt, marble texture has arrived to stay, because it is simple but classy, and it gives place to combine it with nearly any colour. Furthermore, it fits perfectly in industrial and urban environments.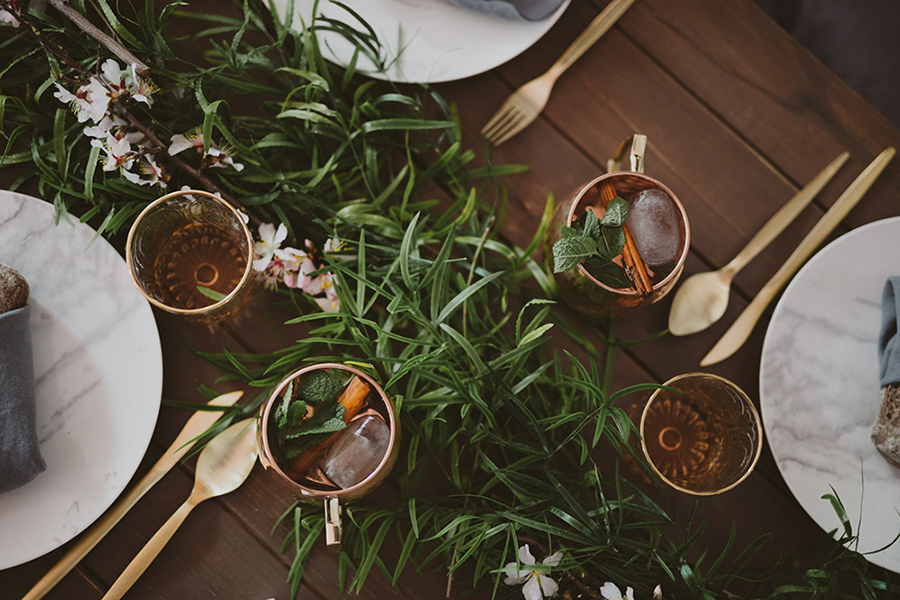 Macrame
Regarding fabrics, macrame is becoming very popular, especially in boho weddings. In addition, even being of Arabic origin, it is a very typical Mediterranean material, so it is perfect for beach weddings with a hippie touch.